Meet the people behind the screen at Enspirement
Because curiosity shouldn't stop just because you're a grown up.
We don't mean to toot our horn (well… maybe just a tiny honk) but we're pretty damn good at consolidating everything you need to keep ahead of the game when it comes to your early childhood education credentials and skills.

Want to know what makes us so great, find out how we got started, and see where we're taking this amazing business?

Well, we're happy to share...
When you're caught up in the day-to-day of teaching and caring for children, it can be tricky to find a spare minute to poke around the internet for resources and information to help build your knowledge base.
That's the whole reason Enspirement
was founded in the first place.
Designed to be a one-stop online centre full of webinars, courses, and valuable information, it saves you valuable hours Googling your heart out – hours which can be better spent actively learning.
Kia ora and g'day!


We're the brains, muscles, and good looks behind Enspirement.
Angela Bush
Angela is the founder of ECE Learning Unlimited and has an extensive and varied background in early childhood education. She loves children and seeing them thrive makes her heart full.
She is a kiwi who currently lives with her family in New South Wales and reckons laughter is an essential part of life.
Sara Soper
Sara fearlessly dives headfirst into spreadsheets, to do lists, and anything with numbers. The glue that holds the admin side of the business together, ECE Learning Unlimited would be lost without her. Sara lives in New Zealand with her amazing family.
Caitlyn Walker
Caitlyn is the online superstar, tech support go-to, and social media maven. She owns and operates Walking On Air, and keeps ECE Learning Unlimited ticking along every minute of the day. When she's not weaving her magic, she's going on adventures in the great outdoors.
Our Philosophy
Enspirement's philosophy is founded on Magda Gerber's philosophies and principles, with respect for all children, including babies, at the core of everything we do.
We are also super on top of everything early childhood, researching best practices, building courses, and digging into groundbreaking data on the regular.
We know you're busy doing the hands-on stuff, so we're here to support you and share everything we know in easily-consumable bits.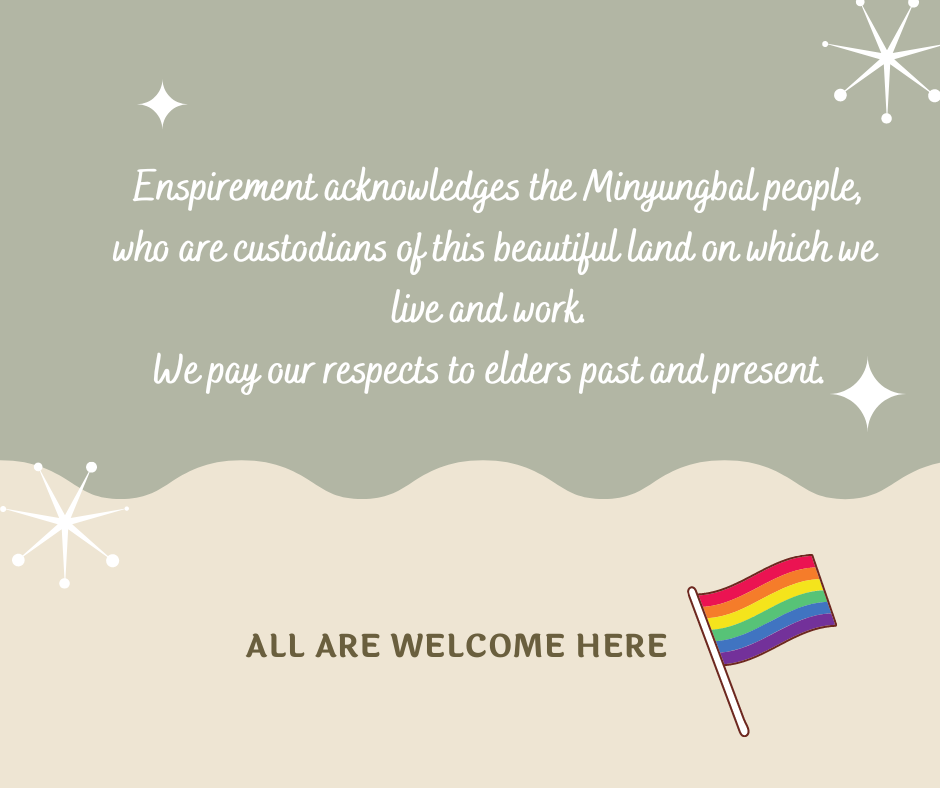 Register for the next Enspirement webinar
Angela Bush
Founder
Angela Bush is the founder of Enspirement, a one-stop resource centre for early childhood educators. She has worked in the field as a teacher, manager, lecturer, mentor, and centre owner for more years than she cares to count, and in a previous life was a nurse. Born in the beautiful land of the long white cloud (Aotearoa), she now calls Australia home along with her husband, children, step-children, and fur-children. Her absolute favourite thing to do is laugh. From groaning at dad jokes to laughing until she cries at hilarious situations, having a cackle is on her to-do list every day!
What is coming up next on our live webinar schedule?
Let's keep you up to date....