ACCESS THIS RESOURCE INSTANTLY
How to make Old Macdonald Wooden Spoons
Teaching Resource:
Old Macdonald Wooden Spoons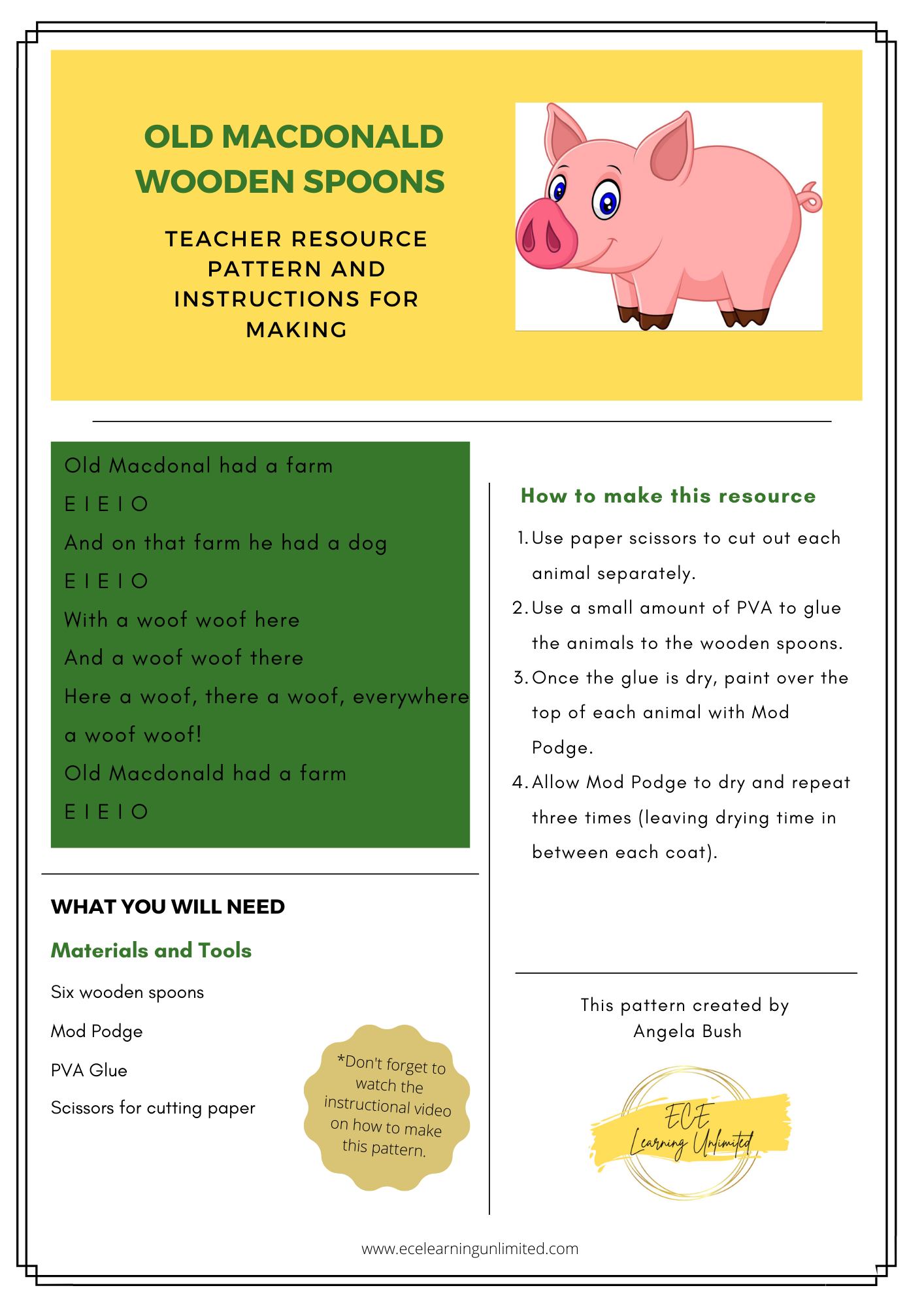 This teaching resource is super quick and easy to make. It is a lovely resource to use with toddlers who are more engaged in music sessions when they are able to hold the teacher's special resources. Give each child a wooden spoon with an animal to hold while you sing "Old Macdonald" in a small group. Invite children to stand up and play their part, when it is their animal's turn to shine.
This beautiful teacher resources includes;
Pattern and instructions for making Old Macdonald

wooden spoons.

A video demonstration showing how to make this resource.

Simply download, print, cut and make your own wooden spoons teacher resource.
Members Club is here!
Access ALL of our resource collection, courses and webinars in our Members Club for only $29 month.
New resources added every month.
Purchase this teacher resource today
Download this resource today
$3.95 NZD (inc GST)
Instant download of this resource
Our members have FREE access to this resource
Immediate access to all of our resources, courses and webinars.
Angela Bush
Angela is a degree qualified and registered ECE teacher, multiple ECE centre owner, curriculum leader and business manager of ECE Learning Unlimited. With over thirty years in ECE and centre ownership, Angela has a wealth of experience and knowledge in successful ECE leadership and centre management.
Meet the creator of this resource
Over the years Angela has also had roles as a lecturer in ECE, nanny, teacher, and mentor. Angela has a particular passion for infants and toddlers and for providing the best possible educare that we can for our youngest children. She has a bias for the RIE approach, and is on a mission to help other ECE professionals love this philosophy too.
Want us to keep you posted when new resources are ready?
We promise not to spam you with boring stuff.