ACCESS THE RECORDING ON DEMAND TODAY
Empty space, drag to resize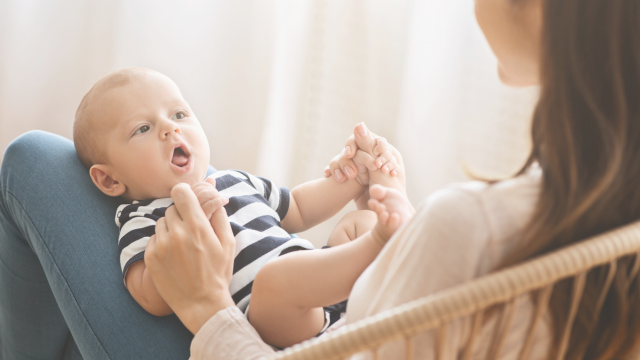 Babbling to brilliance: How early childhood educators can support language development from babies through the toddler years
Duration: Approx. 45 min

Many countries are looking with a renewed focus at the area of pre-birth to 3 years because of a growing recognition of the importance of the earliest months and years. In this ever-changing world there is still a huge importance in giving babies toddlers and young children the skills to be able to communicate. It is estimated that, at birth, a baby 's brain contains thousands of millions of brain cells and some of these are already connected and communicating.
Language development is fundamental to all areas of learning. As babies, toddlers and young children develop, being literate helps them to function effectively in everyday life and to contribute to society. The earliest years lay the important foundations of this.


By 3 years of age, there is a 30-million-word gap between children from the wealthiest and poorest families. A recent study shows that the vocabulary gap is evident in toddlers. By 18 months, children in different socio-economic groups display dramatic differences in their vocabularies. (NAEYC).


We need to consider studies like this as there has been many all saying the same thing. What are we doing that isn't working? Let us look at the way we lay the foundations for language development are they on shaky or solid ground?


"Language is the most powerful instrument of human progress." Maria Montessori


In this webinar you will learn:


• To develop an understanding of the root of language development through responsive interactions.
• To identify the strong foundations of language development for babies and toddlers and the importance of these.
• To develop talking skills through practical experiences that recognise language starts with sounds and gestures then word and sentence.
• To Identify that every child is unique and how we can use language development to support the holistic development of the child.
• To highlight the importance of the adult role in supporting thinking and intrinsic motivation for learning
*Members Club: You are automatically registered for this webinar just sign in to watch

Save with Members Club
Get full access to ALL of our Live
Webinars, On Demand Webinars,
Courses, Resources, and support
when you
join our Members Club!
Certificate of completion provided
for your professional learning records
for every webinar you complete.
So many great resource ideas for relationship building and language development. Thank you.
— Catherine
Awesome. So great to have real examples that I can take back and use. Loved her props!
— Lauren
I had never thought about the importance of relationships when it comes to language development. It made a lot of sense.
— Emily
Adventures with Alice
Check out "Adventures with Alice" for more amazing content right HERE."

Make the mundane magical and every moment will matter!"


Adventures with Alice is a digital training programme for anyone involved in the learning and development of children. It's a programme designed to reignite your passion for play, promote the best possible practice and inspire ideas that will enable every child to grow and learn, laying the foundations for their future. Each adventure in the programme merges theory, cutting edge thinking and translates it into active play and learning.
Join Members Club!
Subscribe to gain full access to our library of professional development. One payment and you can access it all.

Join as a team and you can learn together.
Content
100+ Webinars, Courses and Resources. Ready to go 24/7
Experts
Members Club is created by ECE thought-leaders
Community
Network with like-minded educators worldwide